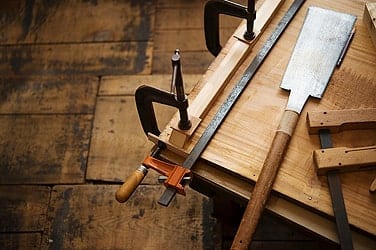 Our years of industry experience mean we can restore your timber pieces to just like new (or better than new). New technologies and products mean extend the life of your timber furniture, giving you many, many more years of enjoyment.
Timber Furniture Repairs Brisbane
Our qualified timber furniture repairers can re-glue and repair most types of furniture regardless of whether or not they are also reupholstered. Over our many years in the timber furniture repairs business here in Brisbane, we've been called upon to repair all types of timber pieces, including dining tables, side tables, buffet units and bureaus, both modern pieces as well as antique furniture.
We can repair broken chair and table legs, chair backs and lounge frames in most furniture, and no job is too big or too small. That's why we're one of the best timber furniture repairers in Brisbane.
Timber Furniture Polishing Brisbane
At The Upholstery Man we take pride in the details and the finishing touches. And that includes the polish on your timber pieces. Whether as part of your timber furniture restoration, or as a separate request, we can ensure that your timber furniture is finished with excellent polishing.
A good professional finish goes beyond just looking good. It will provide longevity, putting a protective barrier against day-to-day wear and tear that can arise from sun exposure, heat, air conditioning and daily use.
Our Capabilities
Stripping and regluing timber furniture
Timber bench top refinishing
Colour touch ups
French polishing
What We Offer
Free in-house quotes
High-quality hide glues, repair wood and finishes
Free advice on your timber furniture repairs in Brisbane
Exceptional customer service
Free pick-up and delivery of your piece
12-month workmanship warranty
150 years of combined expertise in the industry
Talk to us today to arrange a free estimate for your timber furniture polishing or timber furniture repairs Brisbane.
Looking for Something Else?
If you're interested in having antique furniture restored, outdoor furniture revitalised or any other furniture restoration service, check out our pages devoted to those projects. Or give us a shout. We're always available to answer your questions and give expert advice because furniture restoration and reupholstery is our business.
Reupholstery | Replace Foam and Filling | Antique Furniture Restoration | Lounge Upholstery | Outdoor Furniture & Cushions | Washable Tailored Loose Covers | Cushions & Décor | Commercial Projects | Samples and Cuttings