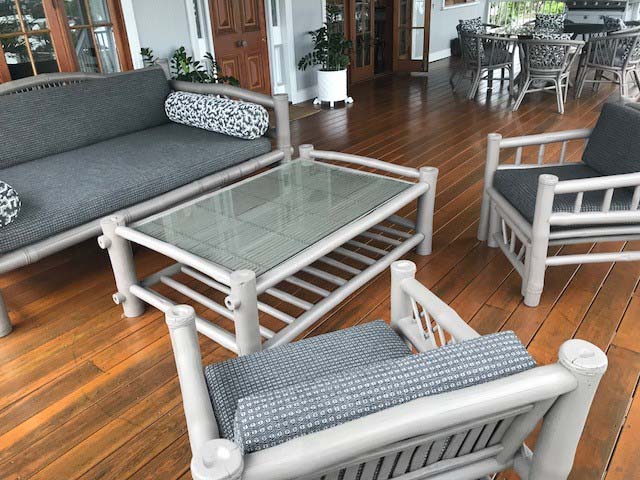 Outdoor Furniture Restoration and Cushion Recovering
Run down and worn out furniture can make your outdoor living space much less inviting. And here in Brisbane, our decks and patios are an essential part of our home life, letting us take full advantage of the beautiful subtropical weather.
At The Upholstery Man, we're experts at breathing life back into your outdoor space through outdoor furniture restoration and cushion recovering. There's no need to throw out your broken or outdated furniture. Instead, let us help you bring it back to its former glory, and bring joy back into your indoor-outdoor lifestyle.
Your Choices, Our Expertise
We have an extensive range of outdoor suitable fabrics and vinyls which will suit almost any situation for you to choose from. And we can supply and custom make cushions to fit benches, cane lounge frames, day beds and much more. Whatever the style, because of our years of experience, we have the expertise to give you the results that you're looking for in your outdoor furniture restoration project.
What We Offer in Outdoor Furniture Restoration and Cushion Recovering
Free in-house quotes
Timber and wicker repairs
Free advice on your outdoor furniture restoration project or cushion recovering
Exceptional customer service
Free pick-up and delivery of your piece
Hundreds of high-quality fabrics to choose from
12-month workmanship warranty
150 years of combined expertise in the industry
Talk to us today to arrange a free estimate.
Looking for Something Else?
If you're interested in having antique furniture restored, timber polishing repairs or any other furniture restoration service, check out our pages devoted to those projects, or give us a shout. We're always available to answer your questions and give expert advice because furniture restoration and reupholstery is our business.
Reupholstery | Replace Foam and Filling | Antique Furniture Restoration | Lounge Upholstery | Washable Tailored Loose Covers | Cushions & Décor | Timber Furniture Repairs & Polishing | Commercial Projects | Samples and Cuttings