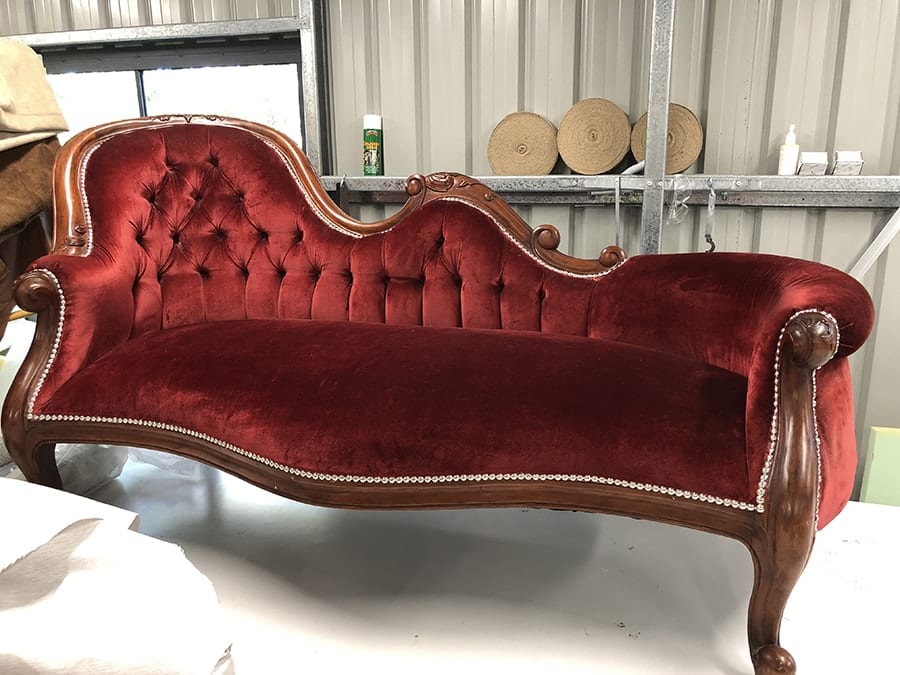 We love antiques! Especially seeing them transformed to their former glory with a full restoration. Our qualified upholsterers are trained in fully stripping down and rebuilding sprung and webbed chairs and lounges as well as diamond buttoning and embellishing.
What Does Antique Furniture Restoration Entail
Not every antique will need our professional restoration services. Sometimes you just need a bit of love and elbow grease to bring your beautiful piece back to its former glory. But for those pieces that need a bit more tender loving care, we're experts at doing just that.
Get Our Expert Advice
As a first step we're here to give you our advice on your antique furniture restoration project. Get in touch via the contact form and be sure to include some images for our review. Our experts will be in touch to let you know the best process for proceeding to restore your beautiful piece.
Our Approach to Antique Furniture Restoration
Once we've reviewed your antique, we'll create a plan for restoring it to its former glory. Our approach is to preserve the original finish as much as possible. The patina (or sheen or gloss) that develops through years of waxing, polishing and the effects of sunlight and use, gives antique pieces a unique look that is nearly impossible to replicate. This effect, as well as the slight fading, dents and marks that develop over time give these pieces character and even value.
Of course, we want to showcase your piece at its best. So we endeavour to restore each antique to its full glory without over-restoring, or removing every 'flaw' that gives antiques their wonderful, special (and desirable) characteristics.
What We Offer
Free in-house quotes
Combined 150 years of expertise in the industry
Free advice on your antique furniture restoration project
Retention of original finish to the extent possible
Free pick-up and delivery of your piece
Timber repairs, including regluing using high-quality hide glue
French polishing
Exceptional customer service
12-month workmanship warranty
Talk to us today to arrange a free estimate for your antique restoration.
Looking for Something Else?
If you're interested in having outdoor furniture and cushions recovered, timber polishing repairs or any other furniture restoration service, check out our pages devoted to those types of projects. Or give us a shout. We're always available to answer your questions and give expert advice.
Reupholstery | Replace Foam and Filling | Lounge Upholstery | Outdoor Furniture & Cushions | Washable Tailored Loose Covers | Cushions & Décor | Timber Furniture Repairs & Polishing | Commercial Projects | Samples and Cuttings