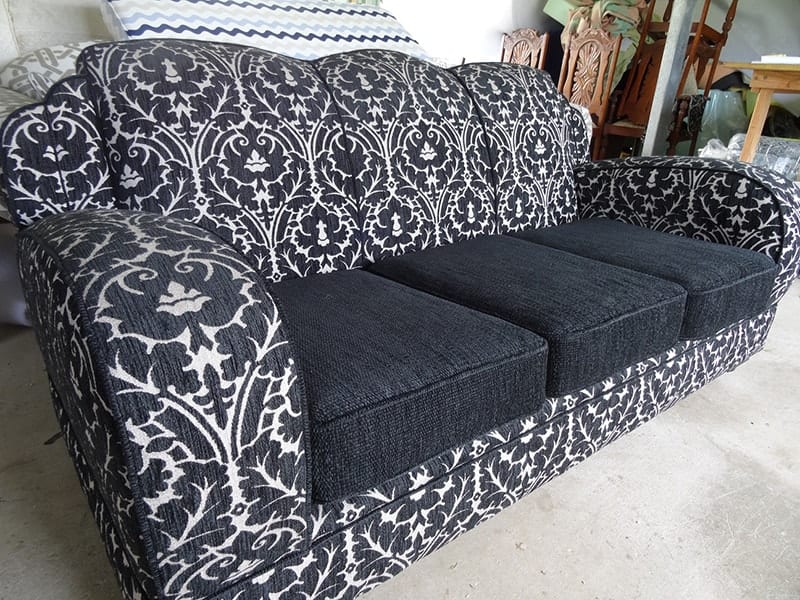 Should you reupholster your lounge or chairs? Absolutely! If you love the chair, but don't love the way it looks or feels, The Upholstery Man can help you. Furniture reupholstery can breathe new life into your well-loved pieces or even those pieces that need a bit more love.
Furniture Reupholstery
Our qualified trades people recover, restore and upholster all types of furniture day in and day out, including lounges, chairs, dining suites, bar stools and outdoor furniture. We can help with replacing and repairing springs, webbing and frame damage. And we can also replace foam and add new legs, feet or castors to your furniture.
There's no job too big or too small when it comes to furniture reupholstery. We're happy to work on an entire hall's worth of seating for your commercial property, or to recover the cushions on your grandmother's 1950s wingback chair. Every furniture reupholstery project offers its own unique challenges and obstacles to puzzle out. And with our combined 150 years of industry experience we'll have the best approach to giving you the best outcome because every piece of furniture deserves the best.
What We Offer
Free in-house quotes
Hundreds of high-quality fabrics to choose from
Free pick-up and delivery of your piece
Exceptional customer service
Free advice on your furniture upholstery project
12-month workmanship warranty
150 years of combined expertise in the industry
We're excited to hear from you about your reupholstery project. So, get in touch with your ideas and let's get started.
Looking for Something Else?
Interested in having outdoor furniture and cushions recovered, your antique furniture restored, timber polishing repairs or any other furniture restoration service? Check out our pages devoted to those projects or give us a shout. We're always available to answer your questions and give expert advice because furniture reupholstery is what we do.
Replace Foam and Filling | Antique Furniture Restoration | Lounge Upholstery | Outdoor Furniture & Cushions | Washable Tailored Loose Covers | Cushions & Décor | Timber Furniture Repairs & Polishing | Commercial Projects | Samples and Cuttings